Advanced Diagnostic Services
When your pet is ill or has experienced a trauma, Christensen Animal Hospital has state-of-the art diagnostic equipment capable of performing comprehensive evaluations. These capabilities include:
Digital Radiology, or "x-ray". Digital x-ray is an imaging tool that provides a non-invasive method of examining your dog or cat's internal organs and internal systems such as muscular-skeletal, cardiopulmonary (heart and lungs), gastrointestinal, reproductive and urinary systems. The image quality of a digital x-ray is much higher than a film x-ray and there is no time lost in processing the image. The digital images can be visualized within a few seconds following exposure, reducing the amount of time your dog or cat is away from you for the testing procedure and allowing us to diagnose and treat your pet rapidly. Digital radiology is environmentally friendly because there are no chemicals to contaminate water systems and it decreases radiation exposure to your pet as images can be manipulated via a computer.
Digital Dental Radiology. Digital dental radiography allows us to visualize the internal anatomy of your pet's teeth along with the roots and surrounding bone. This allows us to diagnose bone loss or hidden disease that may be present in the tooth roots and jawbone areas that may not have been visible during our thorough oral exam prior to the dental procedure.
Ultrasound. Veterinary ultrasound is a painless, non-invasive tool that allows us to visualize internal organs that are not otherwise possible to examine. As the sound waves travel into the body they return images of the internal organs. As opposed to radiographic static images, ultrasounds return dynamic results in real time. This 3 dimensional image allows the trained veterinarian to see how the organs are moving or how blood is flowing through the dog or cat at the time of the procedure.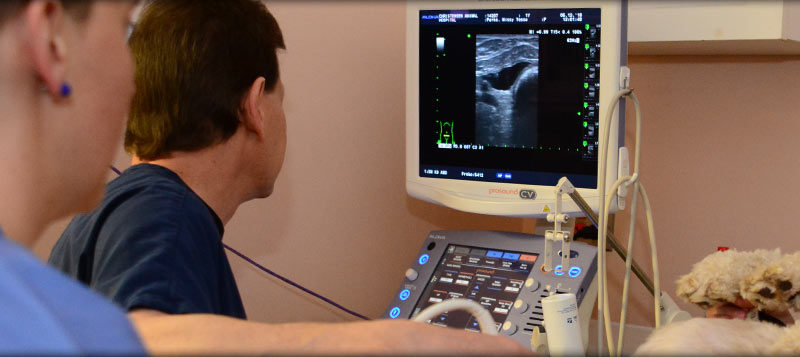 Endoscopy. Endoscopy is a minimally-invasive procedure that allows us to view inside your pet's body and visualize the organs and internal systems without performing surgery. For more information about endoscopy, please see our endoscopy services page.
Laboratory. Our in-hospital laboratory can provide our doctors rapid results of blood testing, fecal screenings, urinalysis, heartworm tests (dogs), leukemia/FIV tests (cats) pre-surgical blood chemistry profiles, among other tests. For more information about our laboratory, please see our laboratory services page.
Blood Pressure Monitoring. Accurate blood pressure monitoring allows us to assess your pet's condition while under anesthesia, experiencing shock, or in other critical situations. It is also used during routine check-ups to provide a baseline blood pressure reading.
Anesthesia Monitoring. We use a state of the art machine for monitoring your pet's ECG, blood pressure, respiration, heart activity, oxygen saturation and temperature during all surgical procedures.