Laser Surgery – Safer Procedures, Better Recovery
At Christensen Animal Hospital in Wilmette, IL we use lasers to cut tissue whenever possible. A scalpel cuts with mechanical energy, and a laser cuts with light energy. There are a number of benefits associated with laser surgery because as the laser cuts, it also seals nerves and vessels. This leads to less bleeding, pain, and inflammation, which leads to faster recovery and return to normal function for your pet. It all goes back to our mantra at Christensen; to use the least invasive technique to allow the patient to get back to normal as soon as possible while enduring as little pain as possible.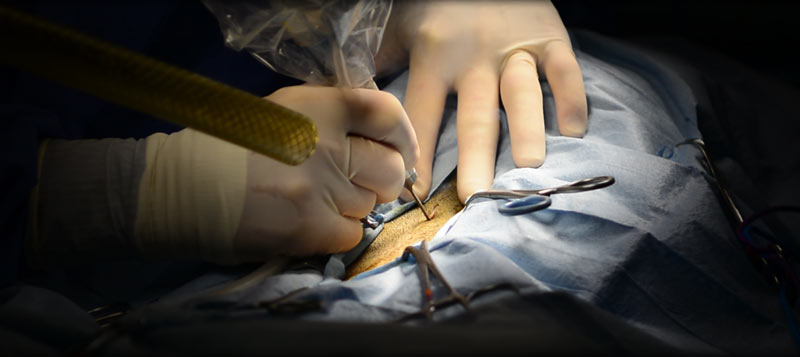 At The Forefront of Animal Care
Dr. Moll has been a pioneer in veterinary laser surgery for almost 20 years. He continues to be on the fore-front of the development of new and novel ways to use lasers to perform surgery. Dr. Moll has been the president of the Veterinary Society of Laser Surgeons, and continues to lecture on the benefits and use of lasers in veterinary medicine. All of this experience, allows Dr. Moll to pursue his true passion; developing and employing new surgical techniques to get his patients back to normal quickly.
At Christensen Animal Hospital in Wilmette we have a variety of lasers at our disposal and in addition to using a laser in place of a scalpel, scissors, or other conventional instruments, we use a small diode laser in places in the body that those tools may not reach. For example, we are able to place a small fiber into places like the ear canal, bladder, and throat to ablate abnormal tissue. This technique essentially "zaps" the tissue and can be used to treat tumors where conventional means fail. We have had several success stories in treating cancer with lasers, allowing our patients a high quality of life and vastly exceeding the life expectancy when treated with other modalities. Call us today at 847-251-2600.