The Surgical Center at Christensen Animal Hospital
The Surgical Center at Christensen Animal Hospital offers clients and referred clients a privately owned, affordable alternative to general and specialty surgical care. Dr. Moll and his team are dedicated to caring for surgical patients with the best in patient centered, client oriented care. For referral clients, we will care for referred patients and then return them to the referring veterinarian.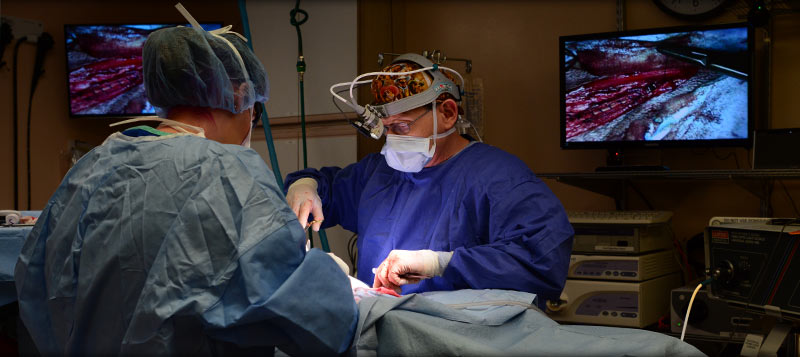 Jeffrey Moll, DVM, Fellow VSLS has over 20 years of experience performing procedures including, but not limited to:
Exploratory laparoscopy and biopsies (liver, kidney, etc)
Laparoscopic assisted gastropexy
Laparoscopic assisted cystoscopy
Laparoscopic ovariectomy and cryptorchidism correction
Splenectomy
GDV correction and gastropexy
Hepatic Lobectomy
Cholecystecomy
Rigid Endoscopy
Rhinoscopy and nasal tumor ablation (laser)
Cystoscopy (ectopic ureters, TCC biopsy and ablation)
Vaginoscopy
Otoendoscopy (chronic otitis, aural tumor resection)
Complete upper airway (retropharyngeal, laryngeal, nasal) evaluation and treatment.
Flexible Endoscopy
Upper and lower gastrointestinal (biopsy and foreign body retrieval)
Bronchcosocopy
Brachycephalic Airway Evaluation and Correction (Rhinoplasty, Soft Palate Resection, Laryngeal Sacculectomy)
Laser Ablation of Neoplasias. Resection or Ablation in Non-Resectable cases
Referred Surgical Clients
Our goal is to be a partner with the referring veterinarian in the treatment of their patients. We value the relationship that referring veterinarians have with their clients and we treat that relationship with the utmost respect. It is at the heart of rendering the best in patient care.
We keep referring veterinarians fully informed about any patient referred to us. We do not, under any circumstance, accept referred clients as part of our general practice. We provide a complete referral report, including radiographs, ultrasound images, and photographs on the case to the referring veterinarian by the next business day at the latest.
About Dr. Jeffrey Moll
Dr. Jeffrey Moll is a 1987 graduate cum laude of the University of Illinois College of Veterinary Medicine. While in veterinary school, He did graduate work in Reproductive Physiology & Neuroendrocrinology. He has continued to expand his knowledge base through advanced training, continuing education and experience in laser surgery, minimally invasive surgery, diagnostic ultrasonography, orthopedic surgery, and endoscopy. He is a past president of the Veterinary Surgical Laser Society.
Dr. Moll has a dedicated commitment to expanding the quality of care available to small animals. He has developed a number of procedures. He has taught and helped teach courses for veterinarians in ultrasound, laser surgery, otoendoscopy, and the minimally invasive treatment of neoplasia. This commitment to education has extended to writing and publishing chapters in both Small Animal Ear Diseases, an Illustrated Guide (2nd Edition, Elsevier) and Veterinary Laser Surgery , A Practical Guide (Blackwell, 2006). Dr. Moll has also taught courses and labs at the North America Veterinary Conference, the Western Veterinary Conference, the South Eastern Veterinary Conference, The Wisconsin Veterinary Medical Association conference, and the Illinois State Veterinary Medical Association conference.