Pet Dental Care at Christensen Animal Hospital in Wilmette, IL
Dental Disease – A Common Pet Problem:
Recent studies indicate that more than 75% of all dogs and cats develop some level of tooth and gum disease by the age of three years old. The bulk of this disease is present in the form of periodontal disease, an inflammatory condition that affects the soft and hard structures that support the teeth. The early stage of periodontal disease is called gingivitis. Gingivitis begins when harmful plaque and calculus builds up on the teeth, much of which accumulates below the gumline. At this point, the gums become swollen and red due to inflammation, which is the body's natural response to the presence of harmful bacteria. As the disease progresses, gums pull away from the tooth and supporting gum tissues are destroyed, a condition known as periodontitis. This leads to bone loss, tooth mobility and eventually, tooth loss.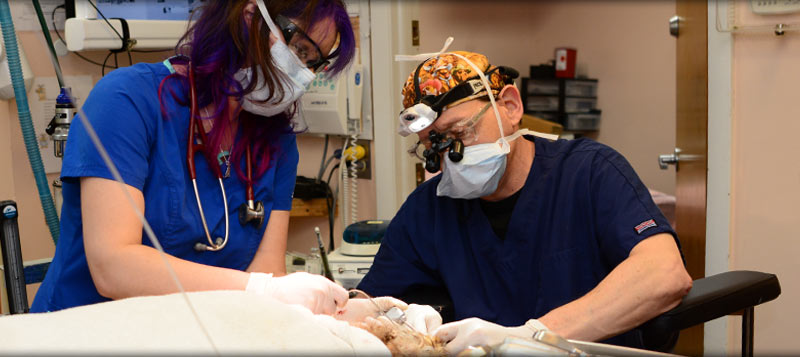 Signs of oral and dental disease in dogs and cats:
Bad breath
Loose, discolored, or tartar-covered teeth
Pet shies away from you when mouth area touched
Drooling or dropping food from mouth
Bleeding from mouth
Loss of appetite or weight loss
If you note any of these signs, or have concerns about your pet's oral health, please contact us for more information regarding a thorough assessment of your pet's mouth, prevention, and therapeutic strategies.
Our Dental Philosophy at Christensen Animal Hospital:
At Christensen Animal Hospital in Wilmette we are strongly committed to your pet's oral health because we know that it is intrinsic to the body's overall well being. Oral health goes beyond cavities and fractured teeth. The literature shows that the circulating toxins from bacteria present in periodontal disease can have severe effects on your pet's heart, liver, kidneys, and other organs. That is why with each visit, our team will not only assess the overall well being of your pet's oral cavity, but other body systems as well.
Prevention of the most common oral disease in pets consists of frequent removal of the dental plaque and tartar that forms on teeth that are not kept clean. Although we brush our teeth daily, we still require scaling of the plaque above and below the gumline by a professional. Our pet's mouths require no less.
Your Pet's Dental Procedure:
Again, your pet's dental assessment begins with a complete physical and oral examination with each and every visit. Not every animal needs a dental cleaning every year. In fact many larger dogs and even some cats may only need one or two cleanings over a lifetime. However, and despite many cat and dog owners devotion to home dental care (see our Facebook page for teeth brushing videos), many pets oral health boils down to time and/or genetics. Upon examination, if your pet's level of disease warrants a dental cleaning, a number of steps will be taken to assure that your pet has the very best, safe, and comprehensive cleaning available.

Unlike in human dentistry, anesthesia is imperative for a safe and full evaluation, cleaning, and therapeutic plan for your pet. It is not possible for this to be performed in an adequate, safe, or effective manner in an awake animal. In order for your pet to undergo an anesthetic dental procedure, pre-operative bloodwork is required to assure that your pet is a good candidate for anesthesia.
On the day of your pet's dental procedure, an intravenous catheter is placed so that medications and fluids may be effectively administered. A narcotic and sedative are administered to help calm your pet for the procedure, but also to help lower the amount of anesthetic that is required. The patient is induced with the same intravenous drugs that are used in human medicine, and maintained on a gas inhalant. The best equipment is utilized to monitor your pet's heart-rate and rhythm, oxygen and carbon dioxide levels, blood pressure, and temperature. These vital parameters are assessed by a doctor and certified veterinary technician team. The technician uses an IM3 ultrasonic dental scaler to remove plaque above and below the gumline. It is at this time that a thorough assessment of periodontal pockets, fractured or chipped teeth, nerve exposure, oral masses, and other oral problems is made by the veterinarian. If dental radiographs or other therapies are required, you will be called intraoperatively for a full report of the dental findings and recommendations, so that you will be able to become an active partner in the plan for your pet. As you pet is already under anesthesia, this is the time to intervene with any necessary therapies.
Because we believe that oral health is integral to overall health, we have invested in a human-quality, high-grade, dental xray machine and cutting edge equipment. Our digital dental xray unit allows for real time definitive diagnosis and minimal xray exposure to your pet. Out doctors are highly skilled at a variety of oral surgeries, including the use of laser surgery when indicated which reduces bleeding, sensitivity, and post operative pain.
Your pet will be recovered by our technician in a warm, calm, and safe environment and monitored for the remainder of the day. It is unusual for any of our dental patients to spend that night in the hospital. At patient discharge, a detailed account of the day will be reported to you along with preventative home care instructions. For more information call Christensen Animal Hospital in Wilmette at 847-251-2600.